Balloon Magic with Dennis Forel – February 3 & 10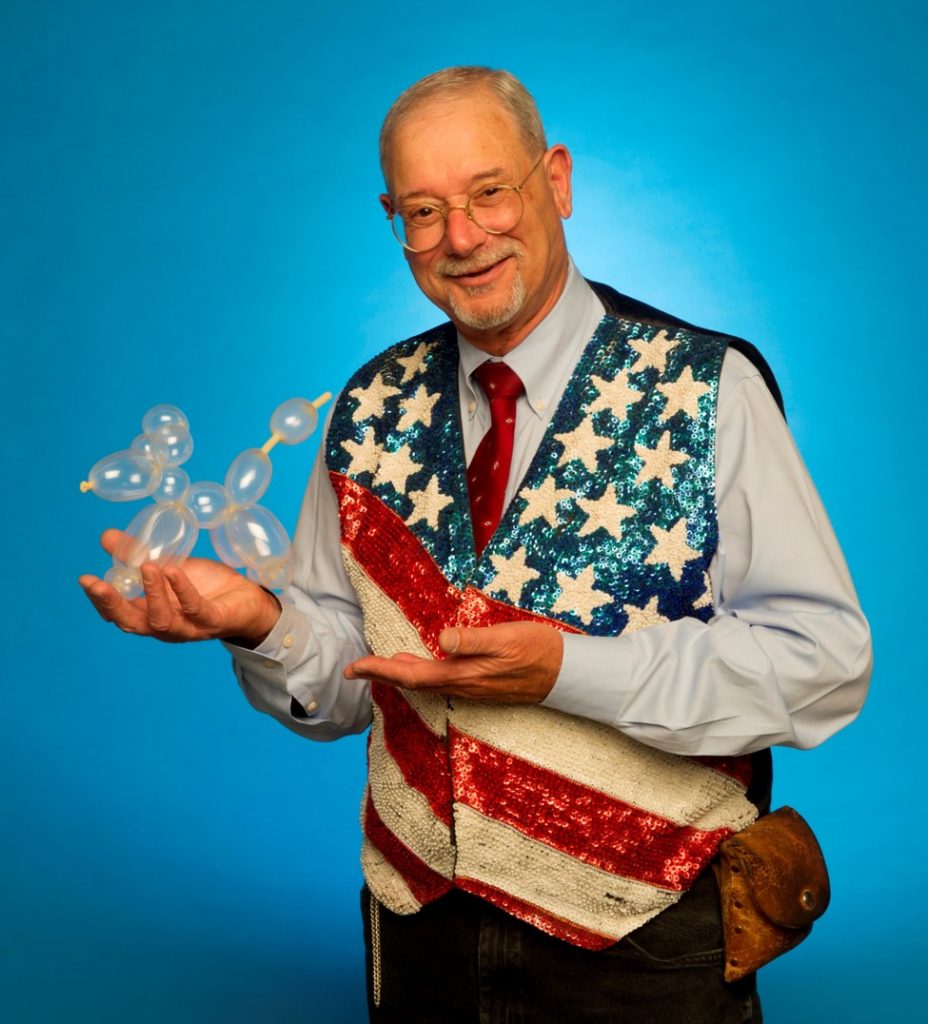 Balloon Magic with Dennis Forel – February 3 & 10
Whether you want to add to your repertoire or learn a skill to impress your grandkids join Dennis Forel as he teaches a basic balloon animal class. From the simple dog and giraffe to the little more complicated hippopotamus and monkey. The class will cover twists, turns and handling of the balloon. As Dennis is not a fan of swords but does believe in high technology the second session will include making a balloon gun that shoots balloon bullets. This will be a two session balloon class over successive Saturdays and all materials will be supplied to you.
Class Dates – Classes are held on Saturdays from 1:30pm to 4:30pm
February 3
February 10
Dennis Forel, with a repertoire of over 108 different animals is considered one of America's foremost balloon Sculptors. He has been a professional performer since the Ides of March 1975.  Though Forel has performed in Alaska, Mexico, Japan, and the Bahamas, he is usually found plying his trade on Fairgrounds throughout the Western United States. As a balloon sculptor, Forel has performed at State and County Fairs, amusement parks such as Knott's Berry Farm, Disneyland, Six Flags, Busch Gardens, The Queen Mary and Nagasaki Holland Village in Japan, as well as shopping centers and night clubs. Besides being known for his balloons he is sometimes referred to as "The Ambassador of GoodWheel" due to the old fashion turn-of-the-century bicycle he has ridden at many centennial and sesquicentennial celebrations. He rides regularly for the RG Canning Flea Market held at the Rose Bowl in Pasadena. Dennis Forel is a member of the Academy of Magical Arts, better known as the Magical Castle in Hollywood, California, where he has been a regular performer for over 25 years.  Forel is also a member of the Western Fairs Association. Dennis was the coauthor of the book "Balloonacy – The Art of Air Sculpture" and starred in the video "Balloonacy".
For additional information you may be required to know prior to your first class, please visit our Magic University Information Page.
If this is a gift for someone else, please let us know during the checkout process.
Class Schedule
| | | | | |
| --- | --- | --- | --- | --- |
| Saturdays | Feb 03, 2018 | 1:30pm | Dennis Forel | Enroll Now |