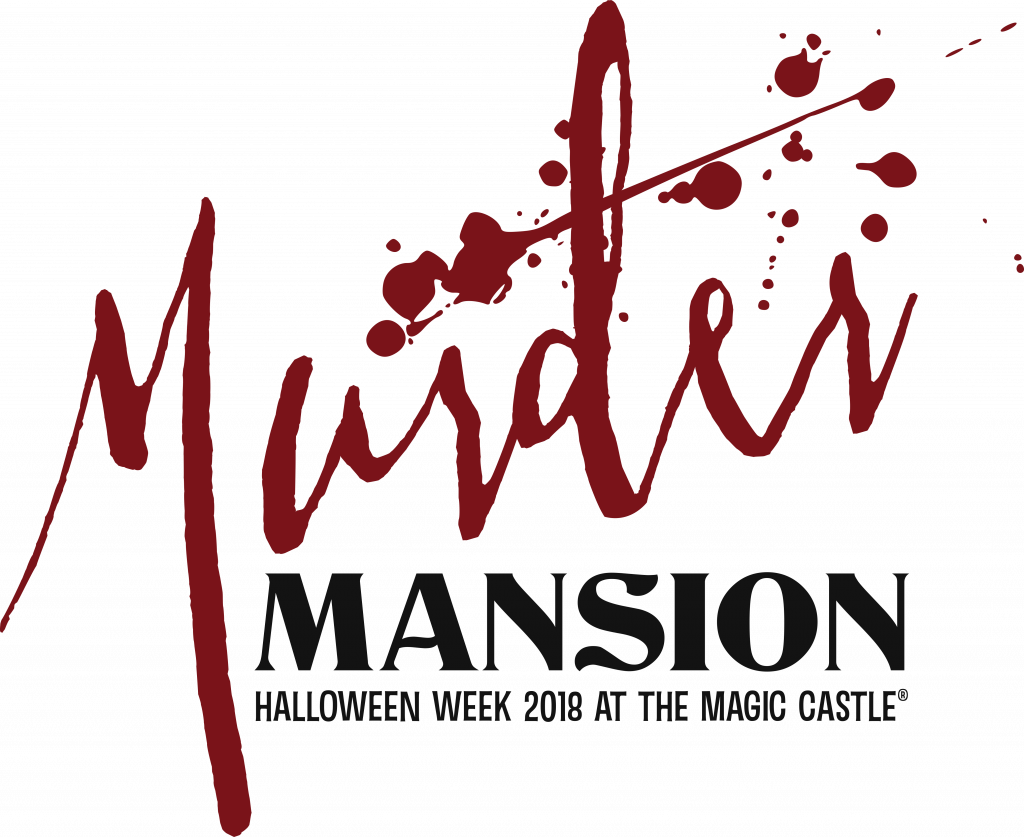 ---
---
We are less than a week away from "Murder Mansion!" Halloween Week 2018 at The Magic Castle! Dinner reservations are booking up fast for the 8-night run of our very own in-house murder mystery celebration! Who killed Cadabra the Great?? Was it the Duke? The Duchess? Her playboy son? The magician's assistant? The black widow? The rogue? The butler? Check out the official "Murder Mansion!" promo video in the link below and meet the cast of the most murderous Halloween Week the Castle has ever seen!!!
---
Members & their guests* are welcome to join us in their finest Halloween costumes for the biggest week of the year at
The Magic Castle®: Halloween Week!
We celebrate All Hallow's Eve for 7 nights, and we're transforming the club into our very own MURDER MYSTERY inside-out!
Each night, you have a chance to figure out "whodunnit?!" and solve the mystery of, "who killed Cadabra?!"
ALL WEEK LONG:
-"Murder Mansion!" decorated clubhouse.
-Themed magic in the showrooms.
-Our legendary candy coffin in the Lobby!
-Tarot card & palm readings.
-Themed cocktail in souvenir glassware & themed menu items.
-RFID special FX-triggerable gags around the club.
-No door charges for member plus 5 guests during "off-peak" evenings:
"Off-Peak Nights"
THU. 10/25, SUN. 10/28, MON. 10/29, and TUE. 10/30:
(In addition to above:)
There is a door charge of $35/person for your 6th guest and up.
Costumes strongly encouraged on these off-peak nights but not mandatory.
Costumes are also welcome on Monday 10/22 and Tuesday 10/23. Otherwise it's standard evening attire: Click here to see the dress code.
"Members-Only Night"
WED. 10/24:
Back by popular demand! Join us for our 6th annual Members-Only Halloween Party! Absolutely zero guest card reservations will be accepted this evening, leaving our haunted mansion free to our members and their guests to destroy–ahem, enjoy! Due to popularity and capacity challenges, this year, members are limited to five guests (6 total in party including the member) so that we can maximize the number of members who can enjoy this special night. No door charges on this evening and COSTUMES ARE MANDATORY.
There will be a costume contest in the Palace of Mystery after the 3rd Palace show.
"Peak Nights"
FRI. 10/26, SAT. 10/27, and WED. 10/31:
(In addition to above in "All Week Long":)
-Midnight costume contests with spooktacular prizes (Halloween Night Only!).
-Photo booth fun with take-home photo strips.
-DJ and dancing in the Inner Circle.
-COSTUMES ARE MANDATORY.
-No Door Charges for Member + 5 Guests; $50/person for 6th guest and up.
"Kids Fall Festival"
SUN. 10/21:
From 11am to 2pm, bring your little gremlins, goblins, and monsters in their Halloween costumes to the Inner Circle for our 6th annual kids shindig with games, activies, treats, face-painting, mask-making, balloon animals, "It's the Great Pumpkin, Charlie Brown," and their very own costume contests after the last Palace of Mystery show. All members and their families are welcome. Brunch reservations are not required. There is no cost for this event.
CALL TO MAKE YOUR DINNER RESERVATIONS BEFORE WE SELL OUT!
MEMBER HOTLINE: (323) 928-7040
NON-MEMBER INVITATIONS: (323) 851-3313 EXT. 1
PLEASE NOTE:
*Guest card reservations are not allowed for the Kids Fall Festival (10/21) or Members-Only Halloween Party (10/24).
*If you plan on bringing in any parties of 20+, please extend the courtesy of alerting us by contacting our Group Events Manager, Erin Chick, with a heads-up: echick@magiccastle.com.
*Costumes must be appropriate, tasteful, and obviously a Halloween costume. Any props must be obvious. No realistic weapons, please.
*On Members-Only Night, members are only permitted five guests per membership. The member must be in attendance and "additional guests" on this evening will be turned away. Secondary members who share the same membership # as their primary member count as one of your guests.
QUESTIONS?
Contact Ben Roman, Special Events Manager, at: events@magiccastle.com.