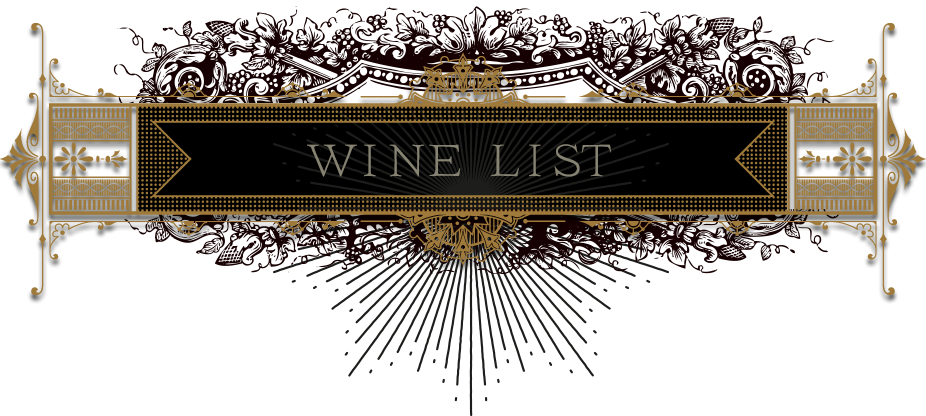 Week of December 10, 2018
PROSECCO  LA MARCA   Trieste, Italy
SPARKLING WINE   MAGIC CASTLE Brut  California
SPARKLING ROSÉ   CHANDON Brut  California
CHAMPAGNE   VEUVE CLICQUOT "Yellow Label" Brut
PINOT GRIGIO   KRIS  Venezie, Italy
RIESLING   FESS PARKER  Santa Barbara County
SAUVIGNON BLANC   SPY VALLEY  Marlborough, New Zealand
SAUVIGNON BLANC   HONIG  Napa Valley
CHARDONNAY   TALBOTT "KALI HART"  Monterey
CHARDONNAY   DAVIS BYNUM  River West Vineyard,  Russian River Valley
ROSÉ   TRIENNES  Cinsault, Syrah & Grencahe    Provence, France
PINOT NOIR   TALLEY  "ESTATE"  Arroyo Grande Valley
PINOT NOIR   MACMURRAY  "ESTATE" Russian River Valley
MERLOT   HAYES VALLEY  Central Coast
GSM BLEND   MARGERUM "M5"  Santa Barbara County
ZINFANDEL  ARMIDA   Maple Vineyard, Dry Creek Valley
MALBEC  CROCUS "L'Atelier" Cahors, France
CABERNET SAUVIGNON  RODNEY STRONG  Sonoma County
CABERNET SAUVIGNON   FLORA SPRINGS  Napa Valley
BUBBLES
PROSECCO SUPERIORE   LUMINORE  Vento, Italy  NV
SPARKLING WINE   ROEDERER ESTATE Brut  Anderson Valley  NV
SPARKLING WINE      J "CUVEE 20" Brut  Russian River Valley  NV
CHAMPAGNE   HENRIOT Blanc De Blancs  Reims  NV
CHAMPAGNE   JACQUESSON Extra Brut  Dizy  Cuvée 741
CHAMPAGNE   LAURENT-PERRIER "LA CUVEE" BRUT  Tours-sur-Marne  NV
CHAMPAGNE   PERRIER-JOUËT Grand Brut  Epernay  NV
CHAMPAGNE   VEUVE CLICQUOT "LA GRANDE DAME"  Reims  2006
ROSÉ SPARKLING   SCHARFFENBERGER BRUT  Mendocino  NV
ROSÉ CHAMPAGNE   BARNAUT  "Grande Reserve" Brut  Bouzy  NV
Large Format
1.5L  CABERNET SAUVIGNON   HONIG  Napa Valley  2015
1.5L  CABERNET SAUVIGNON   CHAPPELLET "SIGNATURE RES."  Napa Valley  2015
1.5L  CABERNET SAUVIGNON   CAYMUS  Napa Valley  2015
1.5L  CABERNET BLEND   RUDD "OAKVILLE ESTATE"  Napa Valley  2014
3L  CABERNET SAUVIGNON   CAYMUS "SPECIAL SELECTION"  Napa Valley  2014
WHITE WINES
SAUVIGNON BLANC   MAURITSON  Dry Creek Valley  2017
SANCERRE BLANC   VIGNOBLE DAUNY "Terres Blanches"  Loire Valley  2017
PINOT GRIS   ANTIQUUM FARM "DAISY"  Willamette Valley, Oregon  2016
VIOGNIER   SHOKRIAN  Central Coast  2015
CHENIN BLANC   FOXEN  Ernesto Wickenden Vineyard, Santa Maria Valley  2016
CHENIN BLANC   CHAPPELLET "SIGNATURE"  Napa Valley  2017
ROUSSANNE   TABLAS CREEK  Adelaida District, Paso Robles  2014
CHARDONNAY   FORMAN  Napa Valley  2016
CHARDONNAY   THE TERRACES  Napa Valley  2016
CHARDONNAY   FRITZ  Russian River Valley  2015
CHARDONNAY   SALUS by STAGLIN  Rutherford, Napa Valley  2015
CHARDONNAY   TREFETHEN  Oak Knoll District of Napa Valley 2016
CHARDONNAY   JOSEPH PHELPS  Freestone Vineyard, Sonoma Coast   2016
CHARDONNAY   KISTLER "LES NOISETIERS"  Sonoma Coast  2016
CHARDONNAY   CHALK HILL "ESTATE BOTTLED"  Sonoma County  2015
CHARDONNAY   RAMEY  Ritchie Vineyard, Russian River Valley   2014
CHARDONNAY   STONESTREET  Upper Barn Vineyard, Sonoma County  2014
CHARDONNAY   ERIC KENT "LUKE'S GROVE"  Russian River Valley  2015
CHARDONNAY   PEAKE RANCH  Sierra Madre Vineyard, Santa Rita Hills  2015
CHARDONNAY   MINDEGO RIDGE  Santa Cruz Mountains  2015
RED WINES
PINOT NOIR   HUSCH  Anderson Valley  2016
PINOT NOIR   BEAUX FRÈRES  Willamette Valley, Oregon  2016
PINOT NOIR   FOXEN  Santa Maria Valley  2016
PINOT NOIR   FAILLA  Sonoma Coast  2016
PINOT NOIR   ROAR  Gary's Vineyard, Santa Lucia Highlands  2016
PINOT NOIR   PEAKE RANCH   Santa Rita Hills  2015
PINOT NOIR   CANIHAN "ESTATE GROWN"  Sonoma County  2012
PINOT NOIR   CAPIAUX  Widdoes Vineyard, Russian River Valley  2015
MERLOT   L'ECOLE NO 41  Estate Vineyards, Walla Walla Valley  2014
MERLOT   FROG'S LEAP  Rutherford, Napa Valley  2015
MERLOT   FREEMARK ABBEY  Napa Valley  2013
MERLOT   DUCKHORN "THREE PALMS"  Napa Valley  2015
GRENACHE   QUIVIRA  Dry Creek Valley  2015
RED BLEND   THACKREY "PLEIADES XXVI"  California  NV
RED BLEND   JONATA "TODOS"  Ballard Canyon, Santa Barbara  2013
GSM BLEND   VENTEUX "FARMHOUSE CUVÉE"  Paso Robles  2015
SYRAH   BAKER LANE  Estate Vineyard, Sonoma Coast  2012
SYRAH   ALBAN "ESTATE"  Patrina Vineyard, Edna Valley  2015
MALBEC BLEND   ACHAVAL FERRER "QUIMERA"  Mendoza, Argentina  2014
MALBEC   FAMILIA ZUCCARDI Q  Valle de Uco, Argentina  2015
ZINFANDEL   FRITZ  "ESTATE GROWN" Dry Creek Valley  2015
ZINFANDEL   EASTON  Amador County  2014
ZINFANDEL   THE TERRACES  Napa Valley  2015
ZINFANDEL   ROCKPILE WINERY  Jack's Cabin Vineyard, Somoma County 2016
CABERNET BLEND   CAIN CUVÉE  Napa Valley  NV14
CABERNET BLEND   PARADUXX by Duckhorn  Napa Valley  2015
CABERNET BLEND  OVERTURE by Opus One  Napa Valley  NV
MERITAGE   SYMMETRY  Alexander Valley  2014/15
CABERNET BLEND   TRILOGY by Flora Springs  Napa Valley  2015
CABERNET BLEND   LANCASTER "WINEMAKER'S CUVÉE"  Alexander Valley  2016
CABERNET BLEND   CHALK HILL "ESTATE RED"  Sonoma County  2015
CABERNET BLEND  OPUS ONE  Napa Valley  2014
CABERNET BLEND   CAIN FIVE  Spring Mtn. District, Napa Valley  2013
CABERNET BLEND   THACHER  "Original Copy"  Adelaida District, Paso Robles  2014
CABERNET SAUVIGNON   BANSHEE  Paso Robles  2015
CABERNET SAUVIGNON   SNOWDEN "RESERVE"  Napa Valley  2008
CABERNET SAUVIGNON   GHOST BLOCK  Yountville, Napa Valley  2015
CABERNET SAUVIGNON   SINEANN  Baby Poux Vineyard, Columbia Valley, WA 2014
CABERNET SAUVIGNON   JUSTIN "ISOSCELES" Paso Robles  2015
CABERNET  SAUVIGNON   DUCKHORN  Napa Valley  2015
CABERNET SAUVIGNON   ADAPTATION  Napa Valley  2015
CABERNET SAUVIGNON   SALUS by STAGLIN  Rutherford, Napa Valley  2014
CABERNET SAUVIGNON   TATE  Mt. Veeder, Napa Valley  2015
CABERNET SAUVIGNON   GEHRICKE  Knights Valley  2015
CABERNET SAUVIGNON   SHAFER "ONE POINT FIVE"  Stags Leap District  2015
CABERNET SAUVIGNON   ODETTE  Stags Leap District, Napa Valley  2015
CABERNET SAUVIGNON   CADE  Howell Mountain, Napa Valley  2015
CABERNET SAUVIGNON   STAGLIN FAMILY  Rutherford, Napa Valley  2014
CABERNET SAUVIGNON   LARKMEAD  Napa Valley  2015
CABERNET SAUVIGNON   ORIN SWIFT "MERCURY HEAD" Napa Valley  2015
***Vintages listed are current as of December 5, 2018***
CORKAGE
The Academy of Magical Arts understands that Members and guests have special bottles of wine that they would like to enjoy while dining with us.
We allow up to two (2) 750ml bottles or one (1) 1.5L bottle of wine per reservation to be brought into the Club and consumed with brunch or dinner in our dining room.
Our corkage fee is $25 per 750ml bottle and $35 for a 1.5L.
We ask that you do not bring in a bottle that is currently on our wine list.