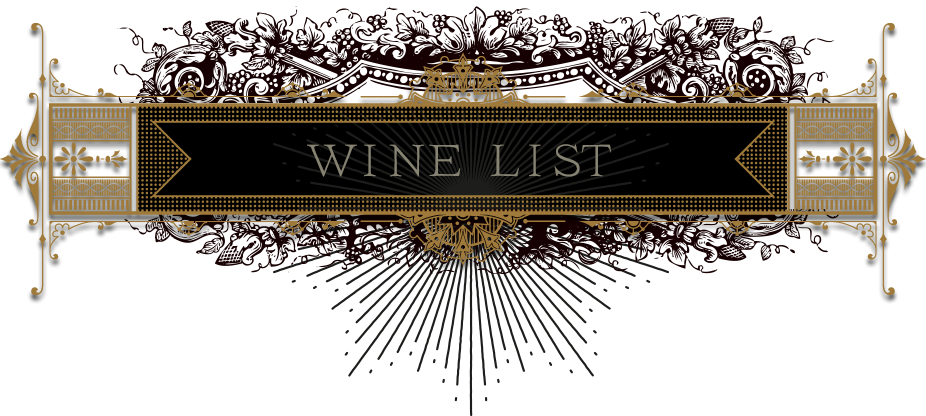 Week of July 26, 2021
PROSECCO  LA MARCA   Trieste, Italy
SPARKLING WINE   MAGIC CASTLE Brut  California
SPARKLING DRY ROSÉ   JP CHENET  France
CHAMPAGNE   VEUVE CLICQUOT "Yellow Label" Brut  NV
PINOT GRIGIO   DANCING COYOTE  Clarksburg
RIESLING   FIRESTONE  Santa Barbara County
SAUVIGNON BLANC   GRASSINI  Happy Canyon
CHARDONNAY   RODNEY STRONG  Sonoma, Monterey & Santa Barbara Counties
CHARDONNAY   PEAKE RANCH  Santa Barbara County
ROSÉ   ELIZABETH ROSE  NAPA VALLEY
PINOT NOIR   MAGIC CASTLE CUVEE  Library Vineyard, Monterey
MERLOT   HAYES VALLEY  Central Coast
RED BLEND   UPSHOT  Sonoma County
MALBEC ILARIA Napa Valley
CABERNET SAUVIGNON  LOUIS MARTINI  Sonoma County
CABERNET SAUVIGNON   PEJU  Napa Valley
BUBBLES
PROSECCO SUPERIORE   LUMINORE  Vento, Italy  NV
SPARKLING WINE   ROEDERER ESTATE Brut  Anderson Valley  NV
CHAMPAGNE   HENRIOT Blanc De Blancs  Reims  NV
CHAMPAGNE   LAURENT-PERRIER "LA CUVÉE" Brut  NV
CHAMPAGNE   PERRIER-JOUËT "BELLE EPOQUE" Brut  Épernay
CHAMPAGNE   DOM PERIGNON Brut  Épernay 2008
CHAMPAGNE   VEUVE CLICQUOT "LA GRANDE DAME"  Reims 2008
ROSÉ SPARKLING   SCHARFFENBERGER BRUT  Mendocino  NV
ROSÉ CHAMPAGNE   BARNAUT  "GRAND RESERVE" Brut  Bouzy  NV
ROSÉ CHAMPAGNE   BILLECART-SALMON  France  NV
LARGE FORMAT
1.5L  CABERNET SAUVIGNON   STAG'S LEAP  "ARTEMIS" Napa Valley  2016
1.5L  CABERNET BLEND   FLORA SPRINGS  "TRILOGY" Napa Valley  2015
1.5L  CABERNET SAUVIGNON   LANCASTER  "WINEMAKER'S CUVEE" Alexander Valley  2016
1.5L  CABERNET BLEND   RUDD "OAKVILLE ESTATE"  Napa Valley  2014
3L  CABERNET SAUVIGNON   SILVER OAK  Alexander Valley  2015
3L  CABERNET SAUVIGNON   FAUST  Napa Valley  2016
WHITE WINES
SAUVIGNON BLANC   HONIG  "RESERVE"  Rutherford, Napa Valley  2018
SAUVIGNON BLANC   CROCKER & STARR  Napa Valley  2018
SAUVIGNON BLANC   ARIETTA  "ON THE WHITE KEYS" Carneros  2017
ALBARINO   LAZARRE  Edna Valley  2018
CHENIN BLANC   THE STEEN  Jurassic Vineyard, Santa Ynez Valley  2016
GEWURZTRAMINER   FATHERS + DAUGHTERS  Ferrington Vineyard, Anderson Valley  2016
WHITE RHONE   MCPRICE MYERS  "Beautiful Earth" Paso Robles  2017
ROUSSANNE   TERCERO  Santa Barbara 2014
CHARDONNAY   RUSACK  El Ranchito Escondido, Santa Catalina Island 2017
CHARDONNAY   TREFETHEN  Oak Knoll District of Napa Valley 2017
CHARDONNAY   ZD  California   2017
CHARDONNAY   KISTLER  "LES NOISETIERS"  Sonoma Coast  2017
CHARDONNAY   RAMEY  Ritchie Vineyard, Russian River Valley  2015
CHARDONNAY   FOLEY JOHNSON  Carneros  2017
CHARDONNAY   BERINGER  "PRIVATE RESERVE" Napa Valley  2017
CHARDONNAY   KONGSGAARD  Napa Valley  2017
ROSÉ
LE CHARMEL   Syrah, Cinsault, Mourvedre & Grenache  Côtes de Provence  2017
SAINTSBURY VIN GRIS  Pinot Noir  Carneros  2018
RED WINES
PINOT NOIR   RAEN   "HOME FIELD"  Fort Ross-Seaview  2016
PINOT NOIR   RIVERS-MARIE  Bearwallow Vineyard, Anderson Valley  2017
PINOT NOIR   RUSACK  Santa Barbara County  2017
PINOT NOIR   SHANE "THE CHARM" Russian River Valley  2017
PINOT NOIR   CHALONE "ESTATE GROWN" Heritage Vines, Chalone Appellation  2016
PINOT NOIR   L'USINE by DAVID PHINNEY  Santa Rita Hills  2017
PINOT NOIR   ROAR  Rosella's Vineyard, Santa Lucia Highlands  2017
PINOT NOIR   THE WEST POLE  Sonoma Coast  2017
PINOT NOIR   ERIC KENT  "SASCHA MARIE" Sonoma Coast  2016
MERLOT   FROG'S LEAP  Napa Valley  2016
MERLOT   KEENAN  Napa Valley  2015
GRENACHE   LUMEN  Santa Barbara County  2016
SANGIOVESE   STOLPMAN  Ballard Canyon  2016
TEMPRANILLO   BODEGAS PASO ROBLES  "VIVA YO!" Central Coast  2015
CAB FRANC   TITUS  Napa Valley  2017
GRENACHE & SYRAH BLEND   LE MISTRAL  "JOSEPH'S BLEND" Ventana Vineyard, Monterey  2016
SYRAH   NICORA  "BUXOM" Paso Robles  2016
MOURVEDRE   TERCERO  Santa Barbara County  2014
MALBEC BLEND   DRAGON'S TOOTH by TREFETHEN Oak Knoll District, Napa Valley  2017
PETITE SIRAH   MENDING WALL  Napa Valley  2015
ZINFANDEL   HEITZ  Ink Grade Vineyard, Napa Valley  2014
ZINFANDEL   ROCKPILE  Rockpile Ridge Vineyard  2016
ZINFANDEL   TURLEY  Ueberroth Vineyard, Paso Robles  2017
CABERNET SAUVIGNON   GHOST BLOCK  Oakville, Napa Valley  2016
CABERNET BLEND   PETER MICHAEL  "LES PAVOTS"  Knights Valley  2016
CABERNET BLEND   SULLIVAN FAMILY  "COEUR DE VIGNE"  Napa Valley  2014
MERITAGE   SYMMETRY by RODNEY STRONG  Alexander Valley  2015
CABERNET SAUVIGNON   ROSSI & WALLACE  "CHÂTEAU LA GRANDE ROCHE"  Napa Valley  2017
CABERNET BLEND   CHATEAU ST JEAN  "CINQ CEPAGES"  Sonoma County  2015
CABERNET SAUVIGNON   GRASSINI FAMILY VINEYARDS  Happy Canyon of Santa Barbara  2016
CABERNET SAUVIGNON   STAGLIN  "SALUS"  Rutherford, Napa Valley  2014
CABERNET SAUVIGNON   SEAVEY  "Caravina"  Napa Valley  2014
CABERNET BLEND   CAIN FIVE  Spring Mtn. District, Napa Valley  2015
CABERNET SAUVIGNON   ULYSSES   Napa Valley  2014
CABERNET BLEND   ARIETTA  "QUARTET" Napa Valley  2016
CABERNET SAUVIGNON   WOLF'S HEAD  Napa Valley  2014
CABERNET SAUVIGNON   CROCKER & STARR  "RLC" Napa Valley  2014
CABERNET SAUVIGNON   FORMAN Napa Valley  2015
CABERNET BLEND   HALTER RANCH "ANCESTOR ESTATE RESERVE" Adelaida District, Paso Robles 2016
CABERNET BLEND   THACHER "ORIGINAL COPY" Adelaida District, Paso Robles 2015
CABERNET SAUVIGNON   LARKMEAD  "SOLARI" Napa Valley  2015
CABERNET SAUVIGNON   AD VIVUM  Sleeping Lady Vineyard, Yountville  2015
***Vintages listed are current as of March 5, 2020***
CORKAGE
The Academy of Magical Arts understands that Members and guests have special bottles of wine that they would like to enjoy while dining with us.
We allow up to two (2) 750ml bottles or one (1) 1.5L bottle of wine per reservation to be brought into the Club and consumed with brunch or dinner in our dining room, subject to a "corkage fee".
Our corkage fee is $30 per 750ml bottle and $60 for a 1.5L.
We ask that you do not bring in a bottle that is currently on our wine list.