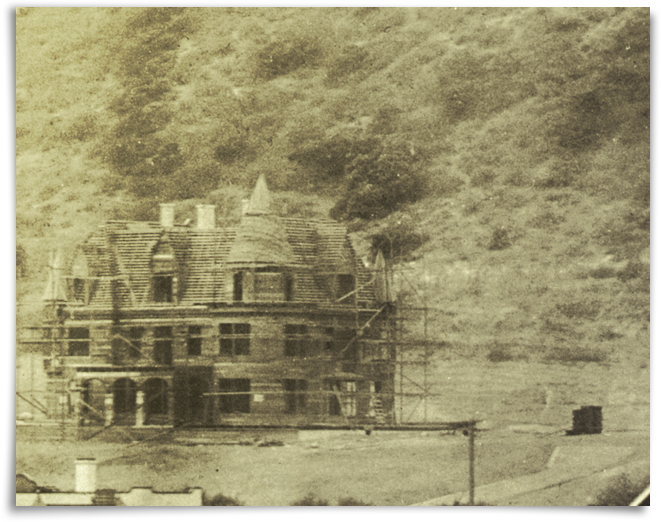 Our Beloved Clubhouse began its life as a beautiful, private home built in 1909 by Rollin and Katherine Lane. Rollin was a very successful lawyer, banker and real estate investor who helped build Hollywood through property development and participation on the historic Hollywood Board of Trade. He also invested heavily in the early development of the nearby San Fernando Valley and in California's San Joaquin Valley, helping to make it one of the most agriculturally productive areas in the United States.
His wife Katherine was a college graduate, published author, teacher and lecturer who worked to improve the quality of life in Hollywood through various community service organizations, even serving a term as president of the Woman's Club of Hollywood. Later, working with the Los Angeles Chamber of Commerce and supported by a small army of volunteers, she promoted the planting of the landmark palm trees that line Wilshire Blvd., as well as hundreds of Japanese cherry trees in and around Griffith Park.
Together, Rollin and Katherine supported the fine arts, local artists, civic improvement projects and made sizable donations to schools and charities.
The Lanes named their home "Holly Chateau" and for thirty years, it was one of the most recognized addresses in Hollywood and a popular location for the area's social elite. Hundreds of newspaper articles attest to the elegant and elaborate luncheons, teas and musicals held for artists, orphans, community leaders or world travelers, or to raise funds for one of Katherine's many civic projects.
After the Lanes passed away in the 1940's, the mansion was divided into a multi-family home. It then became a home for the elderly and was finally transformed into a maze of small apartments. By 1960, the fate of the Mansion was uncertain. Then Milt Larsen met the owner, Thomas O. Glover.
Milt was a writer on the NBC-TV show Truth or Consequences. His office was on the ninth floor of a Hollywood office building that overlooked the Lane mansion. Milt's late father, William W. Larsen Sr., was a renowned magician and had long dreamed of building an elegant private clubhouse for magicians.
The Lane mansion would become that club. In September 1961, Milt, his brother Bill (an accomplished magician, publisher of Genii Magazine and the Academy's first President), Irene (Bill's wife) and a crew of eternally generous friends and volunteers began the extraordinary task of returning this run-down apartment building to its glorious past. After months of scraping and sanding, the rich Victorian elegance began to resurface.
The Magic Castle opened its doors at 5 p.m. on January 2, 1963. Today, more than five decades later, the Castle remains the mecca of magic as the world-famous home to the Academy of Magical Arts, Inc. and invited guests.