THIS EVENT IS

SOLD-OUT TO THE PUBLIC!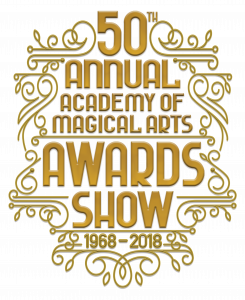 April 22, 2018 ~ Orpheum DTLA

---
Join us for a very special 50th Anniversary Awards Show for the Academy of Magical Arts! Our 2018 celebration takes us back to the Orpheum Theatre in Downtown L.A., and is being produced by none other than past AMA President and current AMA Ambassador Erika Larsen. The show will hosted by the very funny Emmy Award-winning producer, actor, comedian, writer, and enthusiastic AMA Magician Member Larry Wilmore!
Doors open at 6pm with Non-Hosted/Cash Bar Reception, 7pm Show Start.
Attire is "black tie encouraged."
We will have an epic line-up of performances that night and we will award magic's best of the year. We will also be honoring David Copperfield as "Masters Fellowship Winner" and "Magician of the Decade."


All ages are welcome to the show. All tickets include the after-party at The Magic Castle (NOTE: the after-party is age 21+).
Tickets can also be purchased (pending availability) at the Orpheum Box Office. Office hours are Wednesdays only, 1:00 to 7:00 p.m. PST. 842 S. Broadway, Los Angeles, CA 90014. http://laorpheum.com.
SHUTTLE SERVICE OPTIONS:
Pre-Party Celebration with Round-Trip Show Shuttle:
$30 per person (with Hosted Bar & Appetizers)
4:30 p.m. in the Inner Circle
Magic Castle to Orpheum and back; free club parking.
Shuttle Service (with no pre-show celebration):
$10 per person
Magic Castle to Orpheum and back; free club parking.
5:00 p.m. Departure
ALL SHUTTLE RESERVATIONS CAN BE MADE BY E-MAILING EMILY RUEBL AT eruebl@magiccastle.com WITH THE NUMBER OF SLOTS YOU NEED!
PARKING AROUND THE ORPHEUM IS PAID PARKING LOTS ($5-$20) AND STREET METERS.
FOR SHOW PROGRAM ADVERTISEMENTS:
Contact Alan Bursky at: thebursk@aol.com
Event Questions? Contact Ben Roman, Special Events Manager, at: broman@magiccastle.com.